Vango Nevis
You may recognise this tent as similar in style to the Tigris range, also by Vango. In fact the design of the Nevis range is based on the Tigris design, but given extra features and space to accommodate the whole family.
Nevis 400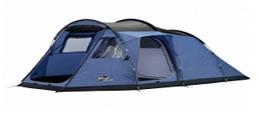 The Vango Nevis tent is a fantastic example of a tunnel tent. This style of tent provides a lot of headroom for a relativity small footprint, its steep sides mean that it sheds rain well. At just over 13 kilos this is not a lightweight tent, but in comparison to other family tents on the market it is relatively light weight. The extra features that come with this tent makes it stand above other family tents which are available, it is far more hard wearing and should last a lot longer than cheaper tents on the market. The stuffsack which is used to pack the tent has been designed well, making the tent easy to put up as well as easy to take down.
There is a lot of storage space available with this particular range of tents, making it a perfect choice for longer camps or camping with a pet. Having windows in the vestibule area is also an advantage, if foul weather should come it provides a bright place to socialise, away from the sleeping area. The windows in the vestibule have curtains too, providing you with privacy.
The Nevis range also has good ventilation, meaning that the inside of your tent should be more comfortable to live in. For safety this range's fabric is fire retardant, however, flames inside or close to tents should still be avoided if possible. The poles used in the Nevis are made of alloy metal, making them far more sturdy than fibreglass poles, however, this adds to the weight of the package.
The Nevis is easy to put up (around 15 minutes) and is withstandant to wind. A stable tent of this nature is definitely an advantage if camping with children. This tent is designed to be used on campsite and would not be very well suited to open hill camping.
Inside the tent there are many fantastic features which are designed to make family camping more enjoyable. The large vestibule is a perfect place to store any wet or muddy gear and is even large enough to keep bikes in. In the sleeping area there is a mesh divider between the two halves. This can be removed but is a good tool in keeping children out your side of the sleeping area!
Vango Nevis 400 Features
    Flysheet: Protex® 6000 polyester embossed
    Inner: Breathable 190T polyester
    Groundsheets: Polyethylene 10,000
    Inner tent : Polyester
    Windows: PVC
    Poles: PowerLite® 14mm alloy
    Pitching: Flysheet-first
    6000HH
    Sewn-in polyethylene groundsheet
    Vango 'Lights Out' inner tent
    Polyester inner groundsheet
    Vango pelmet
    Easy find orange coloured inner clips
    Roll-back inner divider
    Windows with internal curtains
    Mesh doors
    Mesh ventilation
    Vango AirZone large venting front & rear
    Day-to-day features Storage solutions / Lantern loop / Cable entry / Cable tidies
    Fire retardant fabrics
Vango Nevis 400
| Retailer | Availability | Delivery | Price | Total Price | |
| --- | --- | --- | --- | --- | --- |
| | In Stock | Free | £329.95 | £329.95 | |
Nevis 600
The Nevis 600 is very similar in terms of specification than the 400, however, it provides  you with an extra two sleeping spaces. The packed weight of the 600 is 17.7 kilos, compared to other 6 man high quality tents available this is a great reduction.
The 600 has the same alloy pole system as the 400, adding again to stability. Vango has made the Nevis 600 extremal watertight. Using higher-than-standard waterproof material as well as having a seams taped makes this tent stand out amongst its competitors. As with the 400, the sleeping area can easily be modified to suit your needs. Vango has provided plenty of storage solutions in both tents, perfect for storing all the bits and pieces that are needed on a family camping trip!
Vango Nevis 600
| Retailer | Availability | Delivery | Price | Total Price | |
| --- | --- | --- | --- | --- | --- |
| | In Stock | Free | £260 | £260 | |
| | In Stock | Free | £282.99 | £282.99 | |