The Vango Icarus 500 is one of Vango's most popu
lar family tunnel tents due in no small part that it represents great value for money. This flexible tent is available in two sizes, the four man Vango Icarus 400 and the 5 man Vango Icarus 500. So lets see what makes this tent such a good buy.
Vango Icarus 500
| Retailer | Availability | Delivery | Price | Total Price | |
| --- | --- | --- | --- | --- | --- |
| | In Stock | Free | £149.99 | £149.99 | |
| | In Stock | Free | £145.99 | £145.99 | |
The Vango Icarus 500 & Vango Icarus 400 offers weekend campers a tent which is quick and easy to pitch, a good size living area and flexible sleeping arrangements.   Once you familiarise yourself on how to pitch the Vango Icarus you'll have the tent up in no time, in about 10-15 minutes.  The flexibility of the sleeping area of the Vango Icarus 500 allows for it to be divided into two smaller sleeping pods or used as one large sleeping pod.  Also the living area of the Vango Icarus is large and can be extended using a canopy.
Under the hood of Vango Icarus500
The fire retardant flysheet of  the Vango Icarus 500 has a hydrostatic head rating of 2000mm, which means that it will cope with pretty poor weather conditions.  The fabric is also treated so that it will not suffer from UV deterioration as badly as some other tents manufacturers.  Another design feature of the Vango Icarus is that it is well ventilated which means that when the sun is out it is cool and when it is raining condensation is kept to a minimum.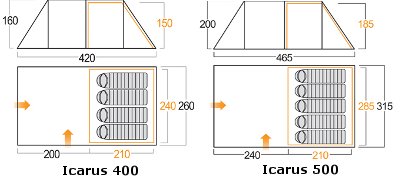 The clever people at Vango have designed a system called TBSII, Tension Banding System  The Vango Icarus being a large tunnel tent can some times caught by side winds and sway about.  The TBSII supports and stabilises the hoop structure  by creating an internal bracing system for each hoop.
Vango Icarus 500 – Our View
If like me you don't like spending ages putting up a tent just to bring it back down two days later then you'll like the Vango Icarus.  We do like how easy it is put pitch, made easier due to it only three poles,  which makes this an ideal weekend tent.  Other features we like are the storage pockets  which are great for storing essentials like toilet roll and the like.
Vango Icarus 500. So lets see what makes this tent such a good buy.
Vango Icarus 500
The Vango Icarus 500 would suit couples or small families although if you didn't take too much stuff I am sure this tent would be comfortable for longer breaks.
Vango Icarus 500 Specifications
Colour: Sage or Blue
Flysheet: Protex® 2000, hydrostatic head 2000mm, tape sealed seams, Fire Retardant
Groundsheet: polyester, tough and durable
Poles: Powerflex poles
Weight: 10.5kg
Pack Size: 75x24x24cm
Pitching Area: 620x460cm
TBSII: Tension Banding System