Pop up tent camping
What is pop up tent camping? Well as the name suggests it is a tent which pops up the minute you open it up.  This means that there is no fussing about with tent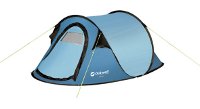 poles.  With pop up tent camping you turn up at the campsite, take out your pop up tent and hey presto a tent!
Pop up tent camping doesn't mean you have  to make compromises on its strength, waterproofness or durability.  Outwell's Jersey Pop up Tent stands out as one of the top buys in pop up tent camping.  It comes in two sizes, Jersey M – 3 man and Jersey S – 2 man. Both have a hydrostatic head of 3,000mm, taped seams and a sewn in ground sheet, which basically means it is more than capable of  keeping out the worst the British weather can through at it.
Unsurprisingly, Outwell targets its 2 man tent for couple but we think that if that this might be a bit cramped so Tents Camping recommends buying the 3 man tent. Outwell along with many other tent manufacturers calculate their accommodation based on shoulder to shoulder sleeping, with some space for equipment etc.  Do you fancy sleeping shoulder to shoulder or close to your sweaty shoes or smelly socks? No, neither do we.  Other than price, there is really no down side to buying the larger 3 man pop up tent as it is not significantly heavier and you can never have too much space in a tent.
Pop up tent camping is ideal for festival goers, occasional or weekend campers or basically anyone who'd much rather be enjoying themselves than spending time pitching a tent.   We don't think that pop up tents are suitable for hikers and climbers as the folded tent cannot be easily stored in a rucksack.
Some more features the Jersey Outwell pop up tent has:
Good ventilation
Fully seam-sealed flysheet for maximum protection
Pre-attached inner tent
Mesh pockets in the inner tents
Pre-attached guy ropes
Reinforcement patch on all stress points
Luminous guy ropes
Heavy duty Outwell zips
Retailers who may stock similar items
1